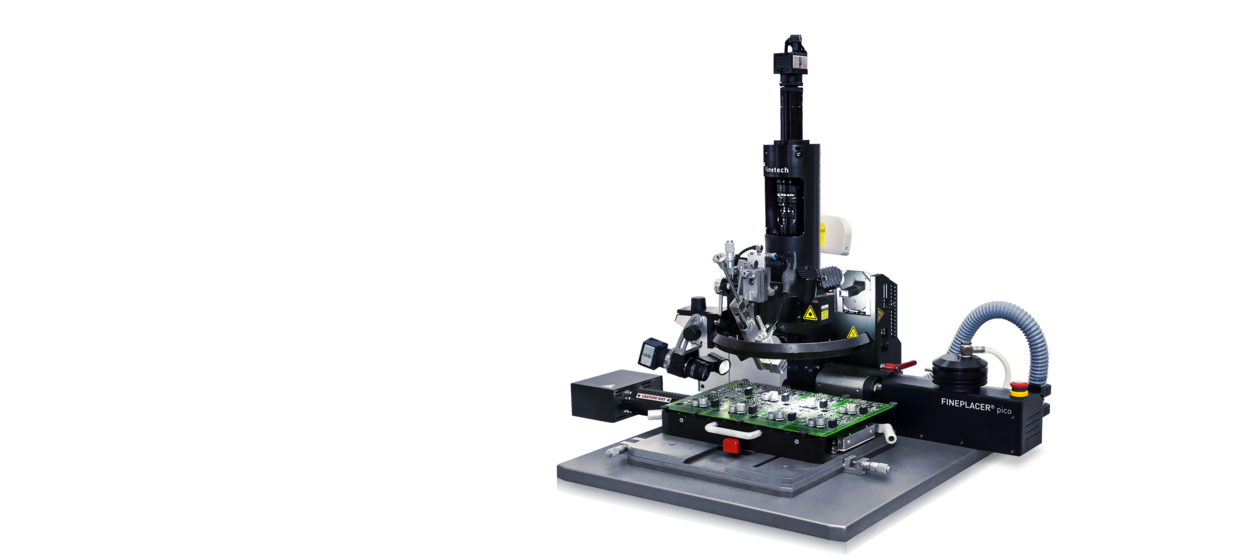 FINEPLACER® pico rs
Precision and Flexibility for Advanced Rework
Hot Air SMD Rework Station
FINEPLACER® pico rs is an enhanced hot air rework station for assembly and rework of all types of SMD components.
The system is a bestseller for professional mobile device rework in high density environments. A high level of process modularity allows all rework process steps within one system. The FINEPLACER® pico rs system is at home in R&D, process development, prototyping and production environments.
Application area from 01005 up to large BGA on small to medium sized PCBs, with the goal to have highly reproducible soldering results.
"We have been partners with Finetech for over 15 years now and they have always been open to our needs. The support they provide is immeasurable – their engineering team is very accessible and everyone is well connected and deeply involved with each project. The quality we get is always at the highest level – from the first to the 2,000th board."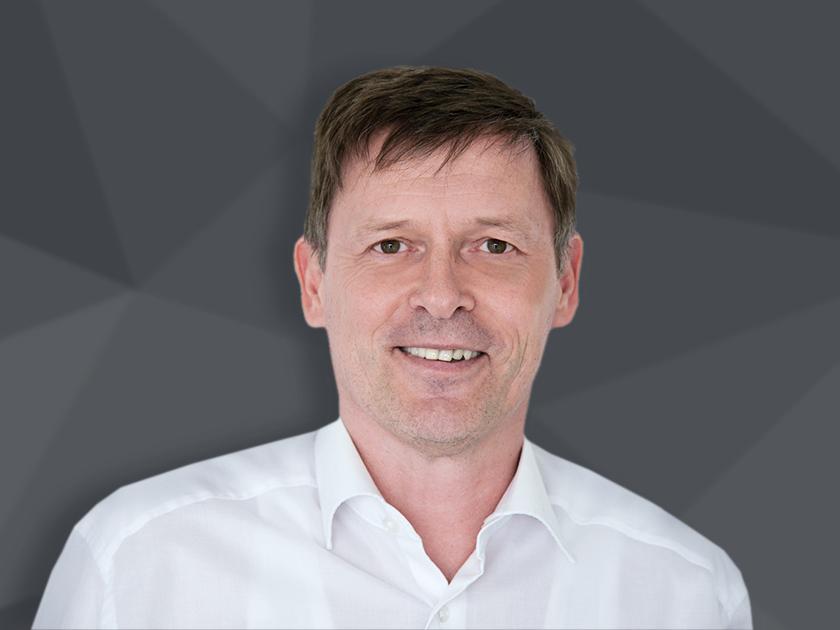 Your Sales Contact
Thomas Müller
Finetech GmbH & Co. KG

Head of Sales Europe

finetech_thomas
Contact Us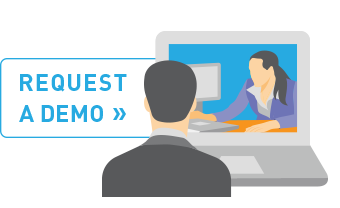 Full hot air rework system
One system for rework and micro assembly
Industry-leading thermal management
Unique FINEPLACER® working principle
Placement accuracy better 5 µm
In-situ process observation in HD
Data/media logging and reporting function
Overlay vision alignment system (VAS) with fixed beam splitter
3-color LED illumination
Full process access and easy programming
Synchronized control of all process related parameters
Software controlled top heater calibration
Modular machine platform allows in-field retrofitting during entire service life
Individual configurations with process modules
Fully manual or semi-automatic machine versions
Force controlled component handling
*depending on configuration
Applications & Technologies
From small 008004 components to massive BGA – with a broad range of supported applications and processes, our professional SMD rework systems are ready to tackle any SMD rework challenge. With industry-leading thermal management and a modular hardware and software architecture, our SMD rework systems have been designed to yield reproducible process results for all steps of the SMD rework cycle.
Functions - Modules - Enhancements
Our SMD rework solutions are as individual as our customers' requirements and offer a wide range of configuration options. In addition to the system's basic functions, which are part of the standard functional range, numerous process modules are available for each system, expanding the spectrum of applications. Retrofittable at any time, they enable additional SMD rework processes either directly or as part of a module package. A selection of functional enhancements and accessory systems make daily work with the SMD rework system easier and help to make certain process sequences even more efficient.
Bar Code Reader

Enhances the functionality of the operating software. It enables a fast and safe identification of any board based on their unique bar code label(s).

Direct Component Printing Module

Applying solder paste made easy by printing directly on the component | An "all in one" solution for reworking QFN, SON and MLF components

Dispense Module

Integration of dispensing systems for applying adhesive, flux, solder paste or other pasty material. Various supported types like time-pressure, volume and jet dispensers.

Hot Beam 04

Infrared underheater: 500 W heating power for the efficient and precise heating of PCBs. Unique features include a very compact design, fast response and targeted heating.

Hot Beam 05

Infrared underheater: 2,000 W heating power to heat heavy PCBs. Unique features include a very compact design, large power density and a fast response heating source.

Hot Gas Bottom Heating Module

Local or full area bottom heater? A question of efficiency | Our approach ensures heat is provided only where it is needed to save energy and protect board and components.

Hot Plate

HOT PLATE 04 is a powerful 700 W conductive underheater that allows efficient work on heavy electrical systems with a flat bottom surface and LED PCBs.

Manual Dipping Unit

MiniOven 05

The MINIOVEN 05 is a robust, compact table-top system designed for easy re-balling of BGA components and pre-bumping of QFN components.

Presentation Module

Ensures safe handling of components from GelPak

Process Gas Switching Module

Process Start Sensor

Because reproducibility matters | Measures the temperature of a defined point on the board surface for reproducible process conditions.

RGW-Illumination

Reballing Module

Recycle BGA and CSP while saving time and money | Allows solder sphere arrays to be restored on custom specified BGA or CSP components after residual solder has been removed.

Smart Desolder 01

Non-contact extraction of residual solder using a manual hot-gas source with a vacuum pen. Remove components without re-applying heat and pressure to PCB.

Solder Removal Module

Removed in one sweep | Allows precise residual solder removal in an inert atmosphere*. Molten solder is easily removed from the board with powerful vacuum without disturbing any pads or solder resist.

Split Field Optics

For a precise alignment of large components via edges | Allows two opposite corners of a large component and its corresponding pad area on the substrate to be viewed under high magnification.

Substrate Heating Module

Various direct contact heating options to heat up substrates from the bottom during the process. Substrate-specific fixations available. Optionally with process gas integration. Used e.g. for thermocompression, thermal adhesive or thermosonic bonding.

Substrate Support

Unheated support plate with substrate specific fixation (e.g. vacuum) to clamp various substrates.

Target Finder

A small red point accelerates the working flow | Enables coarse position alignment of the table to the tool with the help of a laser spot.

Top Heating Module (Hot Gas)

Allows the heat transfer from the top with hot gas and chip specific tool design to control temperature from the chip direction.

Touch Screen

Allows the intuitive use of the software with established multi touch functions and a navigation based on real PCB images.

Traceability Module

Automatic tracking and logging of all process relevant parameters (e.g. temperature, force, etc.) as well as associated component details (e.g. serial numbers).

Vision Alignment System (VAS)

Precise visual alignment of chip and substrate.

Zoom Optics

Allows the adaptation of the Vision Alignment System for an optimized view of components and substrates
01005 Small Passives Rework
Process camera video: desoldering of 01005 small passive with small gap.
Process camera video: removing a QFN component.
Process camera video: Active clamping soldering head for rework of PoP stacked components
Wichtig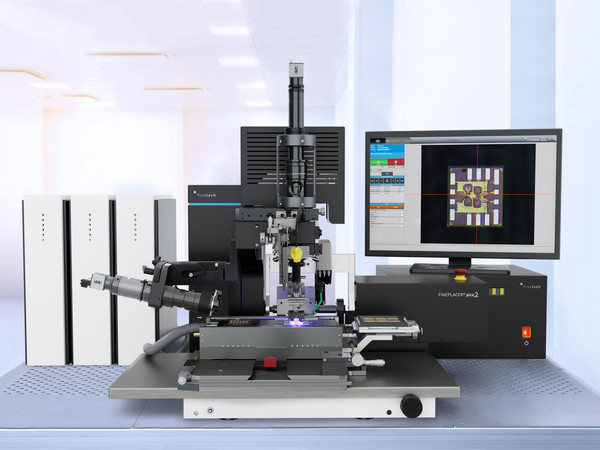 Finetech, a leading provider of precision die-bonders, announces the purchase of the FINEPLACER® pico 2 by AmTECH Microelectronics, a Silicon Valley provider of advanced microelectronics assembly and packaging services.