We're only happy when you are.
The satisfaction of our customers is the benchmark of all our activities. That is why we are constantly working on improving our offers and services. As an ISO 9001 certified company, we regularly undergo external audits of our quality management. 
Certified in accordance with ISO 9001:2015
For a modern machine manufacturing company, the successful application of quality management is a key factor in securing the future.
With this in mind, Finetech has been regularly audited and certified according to DIN EN ISO 9001 since 2004.
For more information, please visit: https://www.tuvsud.com
Our quality management stands for a requirement-oriented development and production of manual, semi- and fully automatic placement and assembly systems as well as hot gas rework systems for the professional rework of SMD assemblies and permanently optimizes our product-accompanying services for the benefit of our customers.
Because we know from experience: the success of any company ultimately depends on its quality and innovative edge.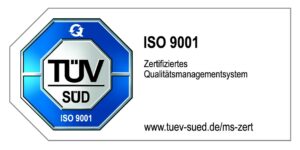 Our quality standards
Products by Finetech are at home wherever a high degree of accuracy and versatility is required, e.g. in data and telecommunication, industrial semiconductors, consumer electronics, medical technology, aerospace, automotive, defense & security and energy as well as universities and institutes.
Finetech's bonding systems for micro assembly support complex applications with the highest placement accuracy better one micrometer. The use of versatile bonding technologies, quality optics and the very robust design of our machines enable particularly accurate and reliably reproducible processes. Our hot gas rework stations are powerful solutions for professional SMD rework. They combine all required features for the rework of modern electronics.
Precision mechanical engineering requires that we set high quality standards for ourselves and our suppliers in order to guarantee the excellent technical characteristics of our products. When engineering our machines, we therefore always strive to use the highest possible level of in-house manufacturing parts and therefore invest in state-of-the-art production facilities. This approach, with a high level of vertical integration, allows for short response times and great efficiency at every step. The operating software of Finetech machines and equipment is also developed in-house.